Friday, October 29, 2010
Where's Rowan? Find me at
Yaoi-Con
wearing this hat:
And follow
these rules
to win fab prizes. From October 29-31. That's now!
Posted by

Rowan McBride
at 12:31 PM
1 comments

Wednesday, October 20, 2010
Katrina Strauss
was way generous and sent me a bunch of stuff to give away along with mine, so I figured now was as good a time as any to post the rules of this year's "Where's Rowan" game. But first, the glorious hat that is the key to victory and--dare I say it--seventh level happiness. I speak, of course, of the Urahara/chibi-Gaara impossible to match with anything baseball cap:
Oh yes, it's spiffy. It even has quite the extensive backstory in that it was made during a phase where for some reason people were sending me
plushies
left and right,
chibi-Gaara
got the traditional bucket hat,
drama ensued
, and eventually there was even a photo taken with Gaara wearing
THIS
hat. It's convoluted and only really makes sense in my mind, but the bottom line is that this hat possesses magical powers and can win you prizes. These prizes, in fact: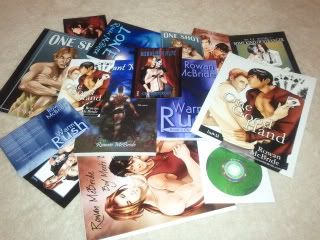 I tried to make sure I put one of each in there, but I've got a *lot* of prints in varying sizes. You may have noticed some sparkling
Blue Ruin
and
Sleight of Hand
love mixed in there-- those are what Katrina sent. :D
The CDs I'm giving out are "first chapter" CDs, in they contain the first chapter of all my currently published works, plus a copy of my short story "A Picture's Worth." I'm also giving away one trade paperback copy each of
Lone
,
Warm Rush: Chasing Winter
, and
Want Me
.
Nice, yeah?
Rules:



Finding the hat is pretty much it. Look for it at Yaoi-Con 2010 either on my head or attached to my messenger bag.


Once you find the hat, walk up to the person with it and ask politely "Are you Rowan McBride?" If they say no, keep walkin' because it means my idea wasn't as original as I thought and someone else painted their own Urahara baseball cap. If it *is* me, then I'll probably flash a big goofy grin and you'll win one of the fabulous prizes listed above.


I'll be posting many of my locations in real time via twitter, so keep an eye on that page for an advantage.


Contest begins when I yell "Game On!" on this blog, my website, twitter, and on my newsletter Friday, October 29th 2010 and ends Halloween day.


Have fun!





Posted by

Rowan McBride
at 4:39 PM
5 comments

Tuesday, October 12, 2010
This Halloween weekend I'll be in San Francisco for
Yaoi-Con
. Gotta say, looking forward to it. Fate has set it up so that I get to meet up with an old friend I haven't seen since college. I also have plans to meet a lot of
new
friends face-to-face for the first time. Plus there's an impressive list of people I plan to outright stalk. Conventions
rock
.
And, yes, I do plan to play
Where's Rowan?
while I'm there. The rules will be similar to last year when we played at
DragonCon
. Yaoi-Con's a lot smaller so I won't be posting every move I make on twitter, but I'll tweet the highlights because I have a lot of prizes to give away and this is the…what?...third or fourth year we've played and no one's ever found Rowan. I have high hopes that the streak will be broken this year. With my luck it will be while I'm letting someone else try on the hat.
What prizes have I got this time around? I'll list the details in a later post, but good ones. Plus author and friend
Katrina Strauss
is sending me some swag and how cool is that?
So, any of you guys going to the con? What events are you looking forward to?
Posted by

Rowan McBride
at 2:20 AM
10 comments